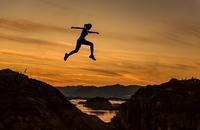 People produce many of their best achievements when they are striving to do their best.  High achievers, like perfectionists, want to be better people and achieve great things.  Unlike perfectionists, high achievers accept that making mistakes and risking failure are part of the achievement process — and part of being human.
Emotionally Healthy High Producers
You can be a high achiever without being a perfectionist.  People who accomplish plenty and stay emotionally healthy tend to exhibit the following behaviors:
Set standards that are high but achievable.
Enjoy the process, not just the outcome.
Recover from disappointment quickly.
Are not disabled by anxiety and fear of failure.
View mistakes as opportunities for growth and learning.
React positively to constructive feedback.
Once you are aware of the ways by which you expect yourself to be perfect, you can start to change your behavior.  In my next post, I'll offer some tips to help you get started.  Until then, begin the change process by thinking about which caused apply to you and writing down examples of these perfectionist behaviors as you observe them.
by Dr. Eve Kilmer