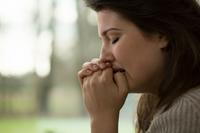 Signs of Discontent
You don't need a degree in psychology to know when you're off-track, but sometimes it creeps up on you. It can seem like you wake up one day and realize that things are not right. These are a few of the signs:
¥ You don't want to get out of bed.
¥ You have a hard time motivating yourself to do routine tasks.
¥ You have doubts about yourself.
¥ You feel mildly depressed for days at a time.
¥ You sometimes overeat and/or use alcohol and drugs to feel better or escape.
¥ You often feel chronically tired, deenergized, and listless.
¥ You worry about how you will keep things together.
¥ You feel bored or restless.
¥ You wish you were somewhere else.
¥ You often have headaches, stomach upset, and other body aches and pains.
¥ You sleep too little or too much.
¥ You have frequent bad dreams or nightmares.
¥ You oversleep.
¥ You complain and nag.
Feeling dissatisfied with your life is not a pleasant experience, but it can lead you in a positive direction. These feelings may be important because they are telling you that your actions are out of synch with your values, goals, or talents.
Rediscover What Is Important to You
Imagine that your life is handed back to you and you are able to do anything you want. What is important to you? What values will direct you? Consider each word on the following list individually. It is not necessary to force-rank them or compare them against each other. Assign a rating to each word:
1 = Critically important to me
2 = Important to me
3 = I can live without it
Acceptance by others
Accomplishment
Activity
Admiration
Appreciation
Authority
Beauty
Being liked
Being well-paid
Calm
Casualness
Certainty
Challenge
Choice
Comfort
Community service
Competition
Creativity
Enjoyment
Ethics
Excellence
Excitement
Fame
Financial security
Fitness
Flexibility
Fortune
Freedom
Fulfilling my potential
Fun
Growth
Harmony
Health
Helping others
Honesty
Independence
Informality
Leisure
Making a difference
Mastery
Morality
Nature
Novelty
Originality
Peace
Personal development
Pets
Pleasure
Popularity
Power
Prestige
Privacy
Prosperity
Quality
Recognition
Relaxation
Respect
Risk
Solitude
Spirituality
Stability
Status
Stimulation
Surprise
Time for friends
Time for my family
Uniqueness
Variety
Wealth
Wisdom
Now make a list that summarizes your most important values. If you think of something that isn't listed, feel free to add it.
The final part of this process (and this is a very streamlined version of what is possible) is to compare how you are currently spending your time with your list of most important values. How well do they match each other? What clues can you find that will help you find more satisfaction in your life?
Things that don't match:
What I can do about it:
by Dr. Eve Kilmer